When Lilly met Chinoiserie: Welcome to the Chic Shed!
So if you know me, you know I have an affinity (some may say obsession, but details, details...) for both chinoiserie style and Lilly Pulitzer.  If you've also been following along with my Instagram stories, you know hubby and I have been building a she shed in our backyard.  Not only will this be the new studio space for Lemon House Design, but it will also be my own personal getaway.  I'm a mom to two little boys and needless to say, I need all the "me-time" I can get.  I've affectionately named it, "The Chic Shed" because I'm filling it with all of my favorite things...
Chintz covered chairs
And preppy patterned shift dresses.
Needlepoint pillows and IKEA organization to hide all of my messes.
Pretty brass hardware with matching drapery rings,
These are a few of my favorite things.  
But, I digress...here's my inspiration board for the project!
1) Pittsburgh Paints - PPG1001-1 Delicate White: I worked as the in-house interior designer for a paint store for several years and this is by far my fave white of all the brands!  Bright, but with a hint of warmth (no blue tones here), this white is like pure sunshine.
A Work in Progress - The Freshly Painted Walls
2) The Colony Hotel - My inspiration: I've been a huge fan of Carlton Varney and Dorothy Draper since I began my interior design career (feels like a lifetime ago!) and The Colony is A WORK OF ART! Fun fact: I'm a Pink Retreat "original" and my love of Lilly Pulitzer brought me to the hotel for the first time.  I go every year with my best friend and have met so many wonderful Lilly sisters here over the years.  When deciding what I wanted for "my space"  it was clear that I had to channel those maximalist palm beach vibes.  
The Colony, Palm Beach, FL
That pale pink, the scallops, and those green and white stripes are exactly the vibe i'm going for.  
This...ALL of this!  I mean, look at those banana leaves! 
Image via Pinterest
3) Window Treatment: I designed a custom cornice board made with Lilly Pulitzer for Lee Jofa fabric years ago as a store display at work.  A few months later my boss was ready to switch out the displays and this was going to be thrown out!  Obvs, I had to save this masterpiece from the landfill.  Since it was only one cornice and the fabric is now discontinued, it sat in my attic for years while I figured out where I could use it. I've gotta be honest, the Tail Lights print still is da bomb and I get giddy every time I look at it.
The Original Store Display - Circa 2011ish
Lilly Pulitzer Men's Stuff pants in Tail Lights!
Image via Pinterest
4) Flooring- LifeProof Luxury Vinyl Flooring "Dusk Cherry": I love the look of hardwood floors, but since this is a shed (an incredibly glamorous one, but alas, still a shed), I decided a more affordable option was in line.  This vinyl looks so much like the real thing and was something my hubby could easily DIY.  No tools necessary, just click together and go. 
5) Craft Storage: IKEA: I'm using a combo of Eket, Brimnes, Lack, Sockerbit, and Linnmon/ Alex pieces from IKEA.  My goal is for everything to have a place and everything to be in its place (One can dream can't they???).  Fun tip, if you love the look and functionality of the Kallax cube unit, but need it to be wall mounted, Eket is exactly what you're looking for.  You can build your own custom configuration right on the Ikea site, including open and closed shelving.  Plus, these cubes fit the Ikea Tjena lidded boxes perfectly for even more organized storage options.
Ikea Sockerbit boxes - The perfect shade of pink and super affordable!  FYI, these fit sewing patterns like a glove.
6) Ginger Jars Galore!:  I run an online vintage shop on the side (cough, cough,  Lemon House Vintage on Etsy, cough).  I'm looking forward to displaying some of my favorite blue and white finds as well as some temple jar murals!  Think Lilly Pulitzer dressing rooms...
My favorite Lilly Pulitzer dressing room at The Breakers, Palm Beach, FL
7) Lilly Pulitzer for Target Pouf in "Boom Boom":  Okay, I might have stalked the Target website on that fateful night of the Lilly for Target drop in 2015.  I got in like a ninja, filling my online cart with pillows, poufs, and patio umbrellas at 3:00am.  Still convinced, this was the BEST. DECISION. EVER.  Although this collection is no longer available in stores, you can still snag these secondhand on Ebay or Poshmark every now and then.  
Image via Pinterest
8) Wicker Swing: I'm going to hang a vintage wicker swing in the shed to create a corner to unwind in.  Whether I'm stitching, or more likely, scrolling my phone, this burned out mama needs a place to escape.  If you are looking for a similar look, this one by Wayfair is just the ticket.
9) The Emily & Merritt Bold Stripe Airgo Swivel Desk Chair by Pottery Barn Teen:  I'm upgrading my rolling chair to this lovely model with those iconic pink stripes!  Plus, the shiny gold legs are a nice bonus. Update: This chair was recently discontinued in this color option, but it is still available in black and white stripes! 
10) Lilly Pulitzer for Target Throw Pillows in "Nosey Posey":  Yes, I know what you're thinking, these are from the same 2015 Lilly for Target online shopping spree.  Don't judge me.  My name is Alexandra, and I may have a Lilly problem.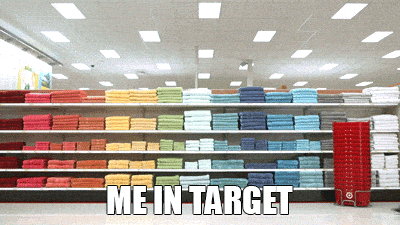 I'd cover everything in this print if I could...
11) Boxwood Wall:  This may be the most off the wall (I love puns) element of this design.  I plan on installing an entire accent wall of faux boxwood for extra drama.  I'm just an extra kind of lady.  Check out my other recent blog post for pics and a tutorial on how I did this!