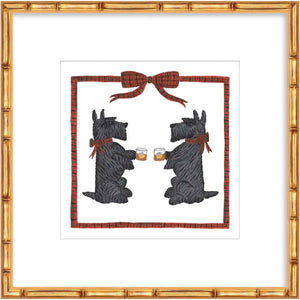 Decorate your home bar with some serious style! This limited edition art print by Willa Heart features a pair of mischievous Scottie Dogs, preppy plaid bows, and whiskey on the rocks. Such a fun conversation starter!  Bottoms up!
Size: 8" x 8".
By: Willa Heart. 
Ready to ship.
Lead time: 1-3 business days. 
Signed and numbered.
Limited edition print.
Packaged beautifully in a cello sleeve with backer.
Meet the Artist: Aly
Aly is the owner & designer behind Willa Heart. She describes herself as a dyslexic maximalist and loves all things fun! All of her products are made in the US with love and care.