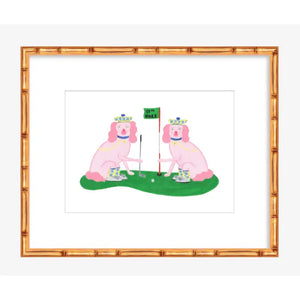 Introducing the perfect preppy duo - "Ellen and Jay" - two dapper pups living their best lives on the green. Dressed to the nines in their argyle socks and ready to hit the 19th hole! This signed and numbered limited edition art print by Willa Heart is a hole-in-one! 
Size: 5" x 7" or 8" x 10"
By: Willa Heart. 
Ready to ship.
Lead time: 1-3 business days.

Limited edition print.
Meet the Artist: Aly
Aly is the owner & designer behind Willa Heart. She describes herself as a dyslexic maximalist and loves all things fun! All of her products are made in the US with love and care.